Maxim Kolpakov and his popular startup Wachanga are a family development platform. Wachanga's apps are used in every country around the world. In a dozen countries they hold the top place for their categories.
They manage to maintain steady growth in a narrow niche market, attract investments, create new apps in a matter of weeks, and experiment incessantly.
As the company's CEO, Maxim is always on the hunt for growth opportunities and in this article we share his insights that come from experience.
#1: The USA is not your best choice
If we roughly outline the primary regions for expansion, we'll end up with something like the following picture:
USA

— a highly profitable but extremely competitive market;
Europe

— an easier market to crack than the USA;
Latin America

— a market with little competition and a large population;
South Korea and Japan

— purchasing power similar to the USA, but simpler.
Many developers are drawn to the potential profits from breaking into the USA (and other English-speaking countries simultaneously), and they decide to translate their app into just one language: English. This means a ton of products are created for the world's 500 million English speakers, resulting in an insane level of competition in English.
The world is suffering from an acute lack of quality products in local languages. By localizing and adapting their product to several markets with lower capitalization, Wachanga generated far greater profits than they could have in the USA alone.
#2: Growth model: covering as many markets as possible
For a B2C product, the simplest way to boost traffic is to expand geographically. The idea of boosting growth by expanding the number of localizations occurred to Maxim early on, and for three years now it has been Wachanga's model for growth.
Today the company's most globalized app is Clover (a period tracker), which has been translated into 52 languages. They offer the newborn care app Babycare in 34 languages, the Pregnancy and Due Date Calendar in 26, and the Water Tracker in 23.
Wachanga's first scaled-up product was its breastfeeding app. When Russia was their primary market, the financial outlook was pretty depressing. As soon as Wachanga expanded the app globally, the audience increased 10 times over in the course of 8 or 9 months:
This is exclusively organic traffic
Later more languages were added, and today Wachanga apps boast over 8 million downloads and 2 million active users, and these numbers see a monthly growth of 10–15%.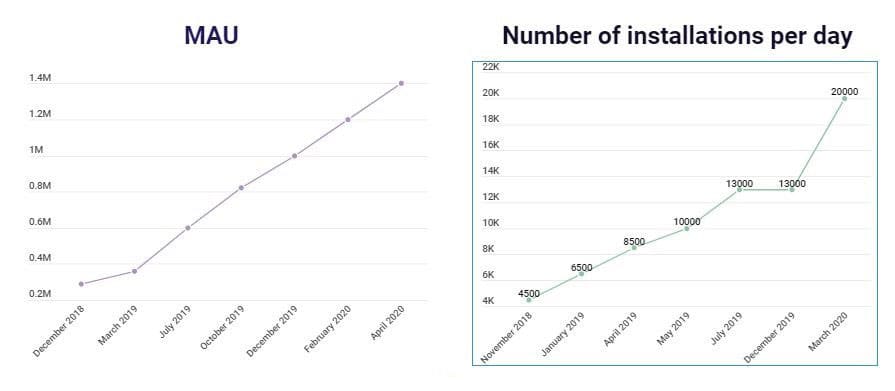 The number of active users of Wachanga grows by 10-15% every month.
If you want users to keep on using your app for several years without losing interest, make quality translation a priority. For long-term apps, only use native-speaking translators. Wachanga does their translations through Alconost and makes sure to provide screenshots for context. For critical languages they also order proofreading.
For speedy translation of interfaces and small texts into several dozen languages at once, Wachanga uses the online service Nitro.
«Nitro is our favorite service for translating smaller features, or two or three words, into 52 languages. We have numerous specialized concepts, and for accurate translation it is important to show the translator how a given screen looks and how the text should be perceived. Nitro provides that opportunity.»

Sergey Dergachev

Wachanga editor
With Nitro they write comments and attach screenshots, check off the required languages, and this information (the comments and screenshots) is automatically forwarded to each of the 52 translators.

At right, comments and a screenshot for the translator
#3: Market analysis: expectation vs. reality
When selecting markets for localization, Wachanga goes by their experience with their previous apps. Here it is very convenient to have an entire product ecosystem. They always conduct an analysis of their primary competitors who also distribute on a global scale.
Here is what Maxim says: "Germany is a terrific market. German localization took off immediately: users are constantly demanding new paid features, and basically telling us, "Shut up and take my money!"
Brazilian users are demanding, but also responsive, and they give us lots of ideas for ways to improve. Many of our apps have seen a ton of feedback specifically from Brazil.
When we translated into Spanish we expected to see impressive results from 100 million Mexicans — after all, they're the largest Spanish-speaking nation. But profit ended up coming from Spain and Argentina: the population turned out to have more purchasing power and to be more Western in culture."
In some countries the official language is not always the preferred language for localization. For example, Wachanga found out that users in India prefer the English version of their apps to the Hindi one. English is also widely used in Israel and South Africa. So first check what localization is being used in apps for each individual country.
#4: Store screenshots and app content: consider the culture
When drawing people in screenshots, Wachanga designers try to suit the taste of a specific nationality, and thereby to increase conversion. A/B testing on the Google Play console helps to determine what works best for their audience.
Sometimes app content also requires cultural adaptation. The Wachanga teams noticed that from Germans, for example, the highest demand is for joint parenting features. Men take an active part in caring for the baby, changing diapers, bathing, and going for walks. And in Muslim countries Wachanga encounters requests for features such as "a prayer when putting baby to bed."
#5: Localizing into less popular languages is a profitable investment
To some, translating an app into 30+ languages might seem a needless extravagance. But this decision has proven economically sound: all Wachanga's localizations have paid for themselves.
Wachanga's apps are available in languages such as Greek, Serbian, Romanian, Hungarian, Croatian, and Malay. Wachanga takes a pragmatic approach to the matter: breaking into numerous low-competition markets is one way of becoming a leader in these markets and getting the biggest piece of the pie.
The same is true of Traditional Chinese. Though the vast majority of Chinese speakers use Simplified Chinese, the Traditional Chinese shouldn't be written off: the inhabitants of Hong Kong and Taiwan (where only Traditional Chinese is used) have considerably greater purchasing power than the populace of mainland China. Wachanga has already used Alconost to localize their apps into traditional Chinese and the Hong Kong dialect.
In countries like Switzerland, Denmark, Sweden the inhabitants speak English quite well, but even they find it easier to process important information in their native languages.
Our thanks to Maxim and the Wachanga team for their valuable insight and tips. We wish them success in their ongoing global expansion! As for us, here at Alconost and Nitro we're always happy to help when you need us. :)
Need to translate some text?