Wachanga is a modern platform for the growing family. It includes the following Wachanga apps: Parenting Guide, Babycare Breastfeeding Tracker, Pregnancy, Clover Period Tracker, Water Tracker, and others. All 8 apps are combined in a single ecosystem, and as of April of 2020 they number over 6 million installs and 1,200,000 active users, whose numbers are growing at a rate of 10-15% monthly.
Clover Period Tracker is accessible in 52 languages, Babycare in 33, Pregnancy in 25, and Water Tracker in 23.
Wachanga's first large-scale product was a breastfeeding app called Babycare. In January of 2017 it was at the top for its category in Russia, but in spite of this the app had only 110 installs a day, and only 7500 active users a month.
After Wachanga released Babycare on the global market, its active audience increased 10 times over within 8-9 months. The company's primary markets are now Germany, France, Brazil, Korea, and Japan.
In December of 2018, Wachanga's apps had around 5000 installs a day and 280 thousand monthly active users (MAU). In March of 2020 there were 20 thousand installs a day and 1.2 million MAU.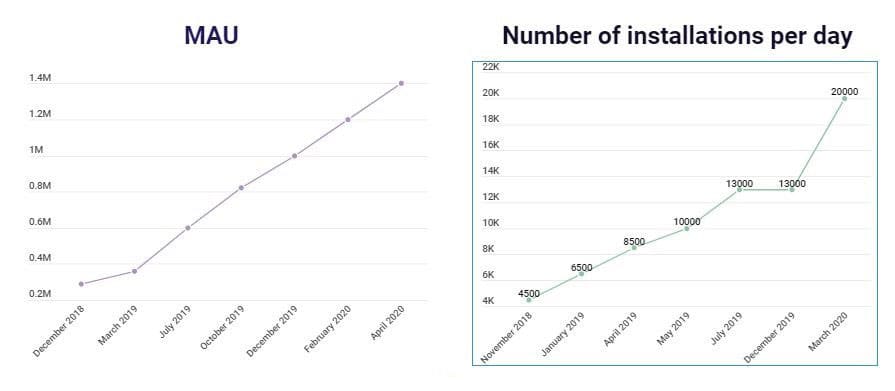 The number of active users of Wachanga grows by 10-15% every month.
Wachanga believes that each market is a specific growth area, and so their apps are accessible in less popular localization languages, such as Greek, Serbian, Romanian, Hungarian, Croatian, and Malay. In a small country there may be only 50 thousand potential customers, but it is possible to obtain them all due to the lack of competition. And the growth will be primarily organic — both of the number of installs and of the number of active users, including paying users.
To keep users from dropping the product and to ensure that they use it for several years, the Wachanga team recommends making quality translation a top priority. For long-term apps they recommend using only native-speaking translators, and for critical languages they advise requesting translation with proofreading. Wachanga uses Alconost localization services to cover 50+ languages that their apps support.
For speedy translation of interfaces and small texts into several dozen languages at once, Wachanga uses the online service Nitro.
«Nitro is our favorite service for translating smaller features, or two or three words, into 52 languages. We have numerous specialized concepts, and for accurate translation it is important to show the translator how a given screen looks and how the text should be perceived. Nitro provides that opportunity.»

Sergey Dergachev

Wachanga editor
In Nitro it is possible to leave comments for the translator and to attach screenshots. A very convenient feature is that this information is duplicated for each language in the order — in Wachanga's case, for each of 52 languages.

You can read an extended article on Wachanga on our blog. CEO Maxim Kolpakov and the Wachanga team talk about why it's not a good idea to start with the USA market, how to adapt content to different countries and cultures, and whether it is worth localizing apps for countries where English is widely spoken (Sweden, Denmark, the Netherlands).
Need to translate some text?