Social Media Marketing Services
Alconost promotes your company's services on social media in English and many other languages.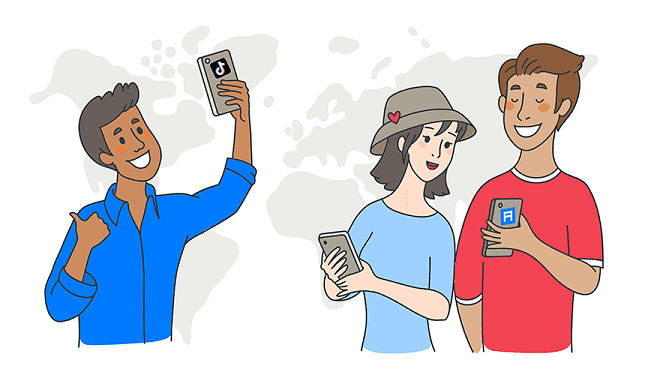 If your goal is to enter the global market and start promoting your product in other countries, multilingual marketing is indispensable. In addition to other international social media marketing services, we offer social media marketing packages in English and other languages on Instagram, Facebook, Twitter, and LinkedIn. This allows our clients to declare their presence on the international market and reach the maximum number of potential users and buyers.
Our social media marketing consultants conduct a detailed analysis of the audience of the target country, and we adapt the overall social media marketing strategy, positioning, content plans, texts, design, and presentation, taking into account local and cultural features, demand, news feeds, and important events.

A multilingual social media marketing package includes
Study and analysis of your product/service and its main competitors, including monitoring and evaluation of competitor services and relevant audience response, and identification of your advantages and weak points.
Development of the overall idea that sets your company apart from others and meets the needs of the core audience and pertinent segments.
Marketing and financial planning - creation of content plans, analytics of channels for attracting subscribers and potential customers, detailed budget calculation.
A creative social media marketing strategy - development of a rubricator, visual account style, tone of voice, and mechanics of interaction with bloggers.
Design and copywriting - compilation of texts and creation of graphics/videos, photo processing and video editing for posts and stories.
Administration: publication of posts/stories on social networks in accordance with the rubricator and content plan, comment and negative response management, audience communication.
Attraction of subscribers, reporting, promotion: tags, viral posts, partnerships with other pages, mutual PR, contests, interaction (advertising) with opinion leaders (bloggers), participation in marathons and joint activities, seeding.
Setup of targeted advertising, analysis of individual post promotion and campaign performance. Testing and optimization of all our actions based on experience and practical data.
We work with social networks

Instagram
The most popular social network, where the majority of users are young and middle-aged people. Has a reach of over 1 billion active monthly users. With Instagram SMM we focus on entertaining visual content, videos, and stories.
Facebook
On average, Facebook's audience consists of people between 20 and 50 years old. For Facebook SMM and maintaining customer pages we focus on providing the most useful and highest quality content (primarily textual). This is a platform for discussions, so our task is to initiate, support, and diplomatically moderate them.
LinkedIn
A social network created for professional connections and career growth. More than 500 million users worldwide, representing at least 150 business sectors. Has amassed a serious audience that is not here to be entertained. SMM services on this social network focus on showcasing your successes and creating a positive image.
Twitter
This social network has proven itself as a B2B tool for keeping partners and customers informed. The most numerous and active Twitter followers are western companies of various sizes and formats. Since the overall audience varies widely, the posting style is determined based on the main idea of your brand and the audience portrait.
Social media marketing agency pricing
| | | |
| --- | --- | --- |
| Service | Starting cost | Details |
| Services of a social media marketing consultant | $1200/month | Audits existing accounts, develops an SMM strategy, develops a content plan, writes posts (20 per month), works with opinion leaders, adjusts the strategy |
| Copywriting in English | $32/1000 characters on average | Studies your product, topic, and social media marketing strategy. Writes texts in accordance with customer requirements. |
| Copywriting in any other language | depends on language | |
| Designer or video editor services | $40/hour | Works in accordance with customer requirements |
| Interaction with the audience (EN) | $40/hour | Replies to direct communications and comments |
| Targeted ad | from $400/month + budget for the ad | Cost for one system in 1 language. The ad budget is transferred by you separately to your advertising account. |
| Localisation/translation of advertising campaign | $30-60/hour | The final cost depends on the chosen language pair and the competence of the translator. |
This SMM pricing is for one ad network and one language account. Maintenance of an additional network or language account is considered + 20% to the indicated cost.
If you want to know the cost of SMM for your project, write to us directly. We will do a quick audit, approve with you all the necessary services and calculate a price.
Social Media Marketing Services FAQ
What are social media management services?
Social media management is a part of social media marketing consisting of planning, creating, and publishing content on social platforms. It requires regular social profile audits and audience research to be able to provide relevant content at the right time.
Social media management also includes all the routine work with the audience (to respond to customer comments, engage with users), collaborating with influencers, reporting, and many others.
What SMM packages do you propose?
Our SMM packages are flexible and customizable to any client's needs. At the beginning of our cooperation we will conduct a study and analysis of your product/service and its main competitors. According to this information, we will understand what SMM services are needed: whether you need one social network or two or more; what kind of content you need; in what languages; what kind of promo we will do (collaboration, targeted ad, viral advertising, etc.). Then we will form the package of services that will suit you ideally.
Is it better to promote with an SMM company or to find a freelancer?
Today it is not a problem at all to find a freelance smm specialist who will provide you with smm marketing for an affordable price. And it could be a good option for companies with a small marketing budget. But working with SMM company has a number of advantages:
reliability - we work only with a contract, which specifies all types of services that we are obliged to provide and prices;

multifunctioning - we involve a number of specialists for SMM promotion: manager, designer, video editor, copywriter, translator, etc.

extended capabilities - we use only expensive professional tools to get data and analyze it.
How many SMM specialists are usually involved in the project?
You will have your personal SMM manager that will be responsible for your project. You will communicate with him with any questions. In the course of work, there will be a need to involve narrow specialists, like translators, copywriters, designers, video editors, targeted ad managers and others. The number of these specialists depends on the scope of work and your requests. But the main thing that you have to know is that you will not need to communicate with all of them, your personal SMM manager will do it for you.
Services you can be interested in:
Have a project in mind?
We'd like to learn more about it. In return, we'll get back to you with a solution and a quote.
Fill the form
Book a call
Our Clients
More than 2000 companies have trusted us with their projects since 2004. Those companies have awesome projects. Yours is awesome too. We'd love to work with you.