The Client
Bamboo Group is a VAS provider for mobile operators and other similar businesses. The company provides a full range of services and has direct contact with 59 mobile operators in 18 countries and 3 million end users.
Objective
Pay per click landing pages development for different keywords in English for each kind of VAS service provided by Bamboo Group.

Develop and launch PPC advertising campaigns for all varieties of VAS services. Primary conversion method: filling out a contact form.
Features and limitations
Value added services (VAS) is a very narrow niche that is divided into even narrower areas that are practically unrelated to each other. It is not possible to create a universal landing page covering all aspects of the company's activities.

The client was interested in both business owners who want to sell their content using VAS services and local partners who have contact with mobile operators.

The advertising campaigns were developed from scratch. The client did not have any historical data on traffic attraction in this niche.

The geo-targeting of the ad campaigns was very wide, with emphasis on developing countries in Asia, Africa, and Latin America.
Pay Per Click Landing Pages

A landing page is the page a user is directed to when they click on an ad. A landing page's structure is designed to answer a user's questions and motivate them to perform a desired action. We can establish a system of dynamic landing pages for PPC, configure web analytics, and perform a number of other services as needed. Read more about pay per click landing pages
Workflow of pay per click landing page development and adjusting campaigns
Performed a detailed market analysis of the proposed varieties of VAS services, regions, and competitors.

Developed several mockups of pay per click landing pages with different sets of blocks depending on the target audience of the VAS service in question. Selected graphical materials (photographs, charts, and tables) for each mockup. Wrote texts.

Collected keywords, confirmed them with the client, and divided them into small semantic groups of 5-7 words. Prepared ad texts.

Generated a dynamic landing page for each group of keywords based on the mockups compiled earlier. Registered advertising keywords in meta-keywords and ad texts in meta-descriptions. Rewrote texts based on keywords from the corresponding groups.

Optimized advertising campaigns based on Google Ads performance indicators and Google Analytics qualitative traffic indicators, as well as data on the relevance of leads.
Results
1. Pay per click landing pages were developed based on the semantic groups for the advertising campaigns. We tried to connect all the components of the "keyword-ad-landing page" system. As a result, many keywords managed to achieve high Quality Score values because their main components were assigned a score of "above average" by the system.
In turn, high Quality Score values reduce cost per click and increase the reach of a given keyword.
A total of 52 pay per click landing pages were generated on the basis of three mockups. The pages were managed by the PPC advertising manager. Generating new pages and changing old ones does not require the intervention of a web designer or programmer.
2. The campaigns began generating conversions within the first few days. Pay per click landing pages corresponded to search queries, so the total conversion rate exceeded 4% and even reached 10% in some areas. The conversion cost for the first few months of the campaigns amounted to USD $9.89.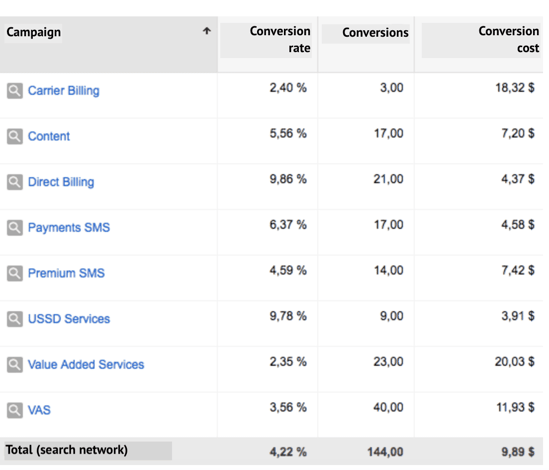 3. The PPC advertising campaigns were monitored on a daily basis, and performance indicators were constantly improving.

As a result of campaign optimization, the cost and number of conversions constantly decreased, and the percentage of impressions received increased.

Summary of pay per click landing pages development project
The project achieved the following results:
The keywords in the PPC campaigns have high Quality Score values ​​due to the relevance of the landing pages, which positively affects CPC and reach.

Pay per click landing pages have a high conversion rate because the pages' content is highly relevant to users' search queries. This is exactly the essence of Google Ads landing page optimization.

A well-functioning landing page management system allows us to quickly make changes to mockups and texts, update data, and generate pages for new target audiences and advertising campaigns.
The client's feedback:
"We are fully satisfied with the results of Alconost's work on our projects. Despite our rather complex requirements, everything was done quickly, clearly, harmoniously, and professionally. We had our own manager who oversaw all issues related to creating multiple landing pages and conducting PPC campaigns. He was always available and quickly responded to any requests, which was very convenient. Highly recommended!

Vlad Yevteyev

Chief Strategy Officer & Member of the Board OU Bamboo Group

Bamboo Group
Alconost is an internet marketing agency that offers search engine optimization for multilingual websites as well as PPC management, SMM and Content promotion. We conduct full SEO audits and website optimization, improve website usability, develop an international promotion strategy and analyze statistics and many others to increase your profits and improve your positions in search engines.
Services you can be interested in: