SEO-friendly Website Design and Development
We develop multilingual websites with a view toward search demand dynamics, semantic structure, and search engine requirements. You end up with an optimized website that's fully ready for further promotion and that generates organic traffic.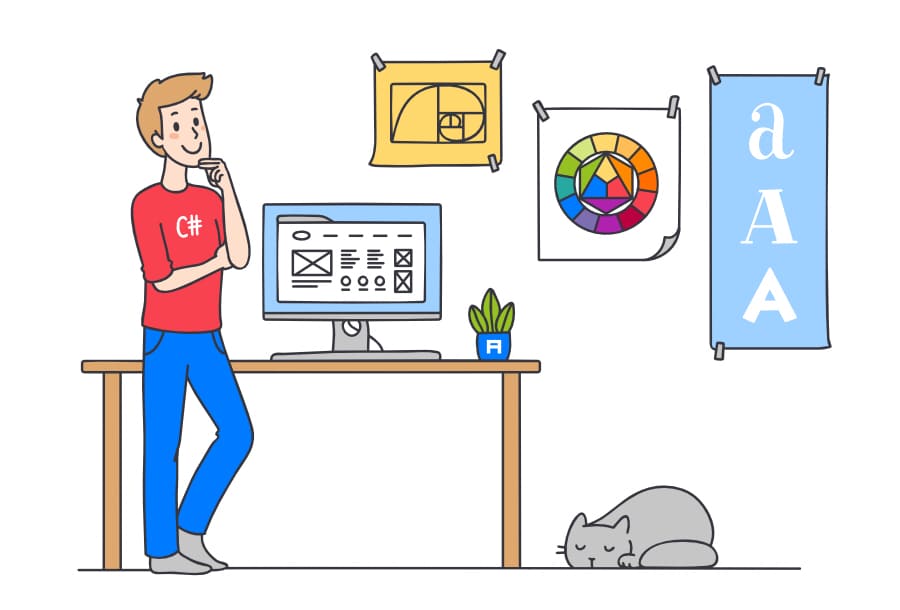 SEO at the website development stage just makes sense economically: it's a solution that will save you not only money, but also time. Our specialists, who range from designers to programmers and copywriters, work as a team to create a website that is not only attractive, but that also works for you starting day one of its launch.
Stages of website development

Preliminary research and planning
We study the search demand for your area of focus, as well as competitor websites. We develop the structure of the new website, distributing keys by site sections and pages. We draw up a work plan and calculate the budget.

Compilation of terms of reference
We draw up terms of reference for the copywriters and designers and for each page in accordance with specific keys and required blocks of information. We also draw up tasks for programmers for the technical side.

Content work
We prepare textual and graphic content in compliance with terms of reference from the SEO specialist. We refine it while taking all elements of the website into account. This is the longest and most labor-intensive stage.

Website design development
Our designers work on the look of the overall site and its individual elements: template components, blocks, etc. We also think through user convenience and functionality (UI/UX).

Website layout and programming
We create the website layout and program custom elements (calculators, 3D blocks, color configuration tools, etc.). We develop unique pages and page templates that can be used repeatedly and easily.

Website launch and testing
We reconfigure analytics and tracking of website visitor actions and conversion. We set up redirects from the old website and monitor incoming traffic. We identify and resolve errors.
Developing multilingual websites
If you need a multilingual website, we lay the groundwork for additional language versions at the development stage: we think through the logic of switching language versions, content storage, ways to integrate with localization systems, etc.
Once you've created the primary version of your website, you won't have to redesign the entire website later or tack on various "crutches" in order to add new languages. Furthermore, we make SEO recommendations for each language version separately, taking search demand in each country and local competitors into account.
How much does developing an SEO-based website cost?
The final cost of creating a website that observes SEO requirements depends on the amount of work and the number of specialists involved. The main thing to understand is that the cost will definitely be lower than if you start by developing a website, and only then decide to optimize it. If you want to save money as well as time, developing a website that takes search demand dynamics and search engine requirements into account is the right decision!
Service
Cost
Business card website with up to 10 pages
Small website: home, contacts, about us, form, several pages of the same type of products or services.
Starting at $5,000
Business website with up to 10 sections
Medium website. Sections with products and services are thought out; filters and in-depth pages are added. Far more TOR and semantic studies are produced.
Starting at $12,000
Portal with up to 3 backend features
Everything the business website offers + services of an engineer and programmer to create unique features - for example, a product color configuration tool, a freight cost calculator, integration with a CRM system, etc.
Starting at $20,000
Hourly rate
$50
*actual cost is calculated following completion of the brief
Website creation FAQ
Why do you need to optimize the website at the development stage?
When a company needs to create a new website, they usually start by approaching designers or technical specialists. But in order for the site to be beautiful and also work for you (bringing in customers, being easy to promote), SEO requirements have to be considered when its structure and features are being developed.
Our specialists have been providing SEO services since 2010, and we often find that companies end up paying twice: first to build the website, and then to rebuild to make it SEO-friendly. What we offer is development of website that's optimized at the outset, which will save you considerable time and money.
How long does it take to develop an optimized website?
The time required to complete all the work of creating and optimizing a site depends on many different factors. But it won't be fast: the preliminary research and formulation of basic recommendations alone will take about a month. The website will take about a month to design and two months to develop. The longest and most difficult task is writing the text for the site, so the timeline will be noticeably affected by the amount of content required.
A lot also depends on how effectively communication is arranged between our specialists and the designated persons from your company.
All our processes are finely tuned, so the timeline that emerges after the preliminary studies will not end up being delayed.
Why should I choose Alconost to build my website?
We've been involved in SEO for 10 years, and we know the particulars of the work inside and out. SEO optimization often requires an overhaul of the website, and this is something we run into every day. That's why website development with an eye toward search demand dynamics, semantic structure, and search engine requirements is a logical continuation of our main area of focus.
On top of all this, our extensive experience in the field of localization enables us to offer a comprehensive solution for international business owners.
Who needs SEO at the website development stage?
This service is suitable both for those who are building their site from scratch and for those who for whatever reason are overhauling their old site. We also audit the old website, identify its strengths and weaknesses, and determine what can be transferred to the new site so that work that's already been done doesn't go to waste.
What specialists are involved in creating the website?
When we first begin working together a project manager will be assigned to you who will oversee all the work of creating and promoting your website. Next a SEO specialist will be engaged, who will conduct all the preliminary studies, create a site structure based on the semantic core, and prepare terms of reference for the technical specialists and copywriters. Next begins the work of the designers, copywriters, programmers, and - in the final phase - a web analyst.
If you need a multilingual site, translators will also be engaged.
What is required from the customer for developing an optimized site?
The main thing that will be required of you is the desire and ability to work hand in glove with us, because no one knows your product or service better than you.
At the beginning of the work you will fill out a brief in which you describe the specifics of your work and the product. Specify your main competitors, goals, and preferences. You will also need to assign a designated person with whom we will be communicating.
We will also need access to your server, hosting, and domain.
Why so expensive? I can hire a freelancer to build me a website for a fraction of that!
That's certainly an option. In fact, we actually recommend that small companies with limited budgets hire freelancers to build them a cheap, template-based website.
But for a large company operating on the global market, a website like this isn't going to cut it. This is especially true if you're counting on an increase in organic traffic and on your site becoming a full-fledged tool for promoting your brand and boosting your sales.
Over the long term, developing a website that complies with all SEO requirements is going to cost you much less than later having to modify the website, fix errors, and so on.
I already have a developer. Can I just order SEO recommendations and terms of reference from you?
If you have absolute confidence in your developer and you find them convenient to work with, by all means. But at present there are not that many companies and agencies on the market that provide high-quality services for marketing studies, search demand research, promotion strategy planning - all the things on which the subsequent promotion of your new website largely depends. It's important to understand that research and promotion strategy are primary, while development is secondary.
It is also important that we easily find common ground with the developer, so that they can efficiently implement our recommendations.
Services you can be interested in:
Have a project in mind?
We'd like to learn more about it. In return, we'll get back to you with a solution and a quote.
Fill the form
Book a call
Our Clients
More than 2000 companies have trusted us with their projects since 2004. Those companies have awesome projects. Yours is awesome too. We'd love to work with you.