Want to learn about what goes into creating an explainer video for business and the client's role in the process? In this case study we take you behind the scenes: we describe how one particular explainer video was created, and we ask the client to share impressions from their own perspective.
To start with, let's watch the video examined in our case study. It's an animated explainer video for Interacty, a tool for gamifying marketing campaigns.

Quick facts about this business explainer video:
— Duration under 2 minutes.
— Consists of animated illustrations and screenshots of the service.
— Voice-over by a professional USA-based actress.
Quick facts about the product that is the subject of the video:
— Interacty is a platform for creating branded games and other playable content with a wide range of formats for audience engagement.
— The project was founded in 2020 in Latvia.
— As of September 2022 Interacty has a base of over 120 thousand users from 135 countries around the world.
Why would a startup need explainer video production?
"First and foremost, we wanted our explainer video to be suitable for our website," the Interacty team recalls. "One of our platform's key features is a wide variety of game mechanisms for marketing, and it's very easy to master. You can generate branded quizzes, tests, minigames, entertaining lead generation forms, and many more interactive marketing formats. New and exciting content can be rolled out every single day, if desired, and its performance can be tracked. We wanted our product explainer video to vividly demonstrate how Interacty offers many different options for user engagement, how user-friendly the platform is, and what possibilities this opens up for brands."
Interacty had no particular requirements for the video that would have limited our creativity or complicated the production process. They needed a format suitable for YouTube — classic full HD with landscape orientation.

In terms of animation technique, the folks at Interacty were prepared to consider the option of combining a classy animation of interface elements with fragments of live stock footage. But the startup team had no firm conviction that this was exactly how the video had to look. This was Interacty's first time ordering a professional explainer video for their product, and they were quite ready to listen to suggestions from video production companies.


Why did Interacty choose Alconost as their explainer video agency?
"We looked at several studios that make explainer videos," Interacty recollected. "Alconost came up in a search — that's the whole story. We looked at some samples of their work; we liked them, and they looked like what we were after. We also noted Alconost's list of clients, which was impressive. Alconost also suited us in terms of cost and turnaround time, so we decided to go with them."

We started out by discussing the possibility of using stock footage, and decided against it. It would have increased the explainer video cost by 50-80%, which exceeded the budget. Besides, this kind of video fragments might not have blended well with the product's easygoing visual style.
How the explainer video creation process begins
In our opinion, to make an intelligible, logical video you need to start by actually using the product and pay close attention to how it works. Interacty really is a terrific, logical, user-friendly platform, so familiarizing ourselves with it took less than a day. Once we had studied the platform, the video brief, and the project materials provided by Interacty, Alconost commenced creating the script.

Of course, the platform has plenty of interactive content templates, but to avoid confusing the viewer the most effective approach is to select one, then use it to demo the various customizations, right up to the final version. At Interacty they shared with us that one format popular with users is the "memory game." So we adopted it as an example to showcase the capabilities of the Interacty platform.

"We also wanted to emphasize the advantages our platform offers users," Interacty added. "Here we're particularly referring to instant publishing of branded games and the ability for the whole marketing team to track how users interact with content. The folks at Alconost took our requests into account and implemented them in the script in a way that kept the video budget from ballooning. We liked the script, so we readily gave the green light for production."


What happens between script and animation
The video opens with a scene describing the context in which users can interact with marketing games. The graphics for the scene — and for the whole video, actually — are original work by Alconost. Just look at how the illustrations for this explainer video came out — the different shades of meaning, and how easy they are on the eyes!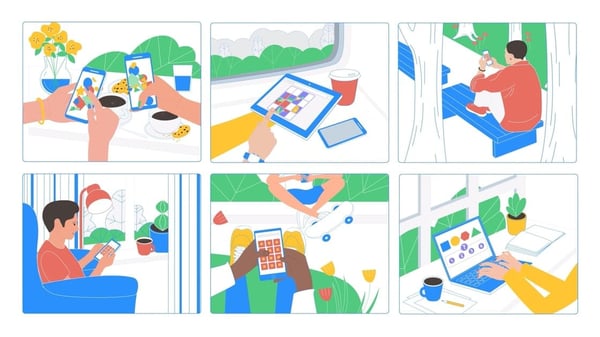 Illustration: graphics for the Interacty platform explainer video
At the storyboarding stage we also thought of a way to organically integrate Interacty's existing logo into the visual sequence. The logo reflects the following idea: Interacty helps to create content that is easy to distribute and has the potential to go viral. Note the appearance of the logo — a fluffy dandelion with its seeds taking flight. We built on this idea in the animation, with a seed sprouting up immediately.
At the same stage we took screenshots of the service: this forms the basis of the animated screencast. Here we'll let you in on a secret: we capture each little action, and at the same time we optimize the interface itself to make it look neat and seamless in the video. Additionally, using the browser's developer mode we can adjust the webpage content to display nominal information instead of actual data.
Illustration: scene of animated screenshots from the Interacty explainer video
Simultaneously we worked on the audio component of the future video. We recorded the voice-over with a professional USA-based actress, then chose a background track that blended well both with the voice-over and with the video atmosphere, which was determined by the visual style.
"At Alconost they offered us a selection of various voices to choose from, and several options for music," Interacty commented. "We appreciated that, since the sound also affects the impression a video creates. Our team selected a female voice and the music that was used in the background. In general, it was unique and fascinating to watch the ideas from the script transform into illustrations and audio files. The folks at Alconost often asked our opinion at the intermediary stages — whether we liked a given character, visual environment, etc.
To be honest, it came as a surprise to us," Interacty admitted. "We had thought hardly any involvement would be needed on our part. But we saw that the request for involvement on our part was well-founded. We realized that this would result in a video that looked more like what we were expecting, with every detail verified, and all this meant we had complete control of the process."


The magic of animation
It took a week for us to create the rough draft of the animation, and a couple of days to finalize the video sequence. Because Interacty had paid close attention at the intermediate stages, giving us logical feedback that was easy to interpret, the final edits were little more than finishing touches.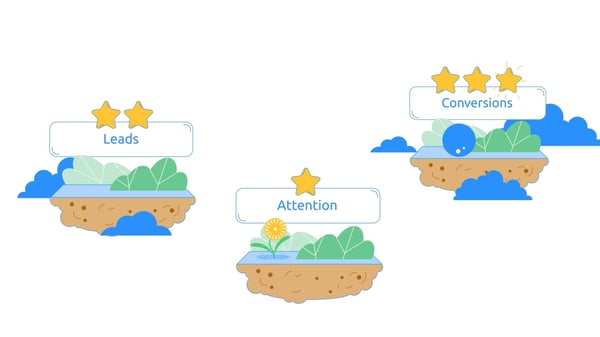 Illustration: a frame from the Interacty video, showcasing benefits of the product
Once the video sequence had been approved, all that was left was to finalize the audio sequence. We cleaned up the narration track, added sound effects for significant events, and edited the music track to match the duration of the animation.
"Our team was pleased with the final version of the explainer video," Interacty reports. "We've already started using the video in our marketing communications, and we noticed something interesting. When our clients watch the video they evaluate not the video itself, but the service on which it is focused. And that's a good thing — after all, the video is a means to an end. The explainer video works exactly as we had hoped!"
Your explainer video is finished. What next?
"We liked that the video turned out to be quite universal. We can use it for promotion among various groups of clients.
The experience of creating an explainer video with a professional company will come in handy when we order videos in the future. We may end up needing some short videos for advertising campaigns. We don't have any particular concepts for topics at present — just general ideas. It might be interesting to tell some short stories about how clients in various industries use the Interacty platform."
We asked the Interacty team to elaborate a little on their observations in this regard.
"We like to observe how people use our platform to achieve their business objectives. Certain methods may not be what you would expect, but that only underscores its flexibility. For example, part of our clients like to use Interacty to engage their audience at online and offline events. If you're a speaker, you can use Interacty to create a minigame or test with questions about the main ideas of your presentation, add a QR code with a link to the final slide, and invite your listeners to check how much they remember from your presentation. They can take the test or play the game immediately from their own devices. You can even offer a prize to the most attentive participants, such as a promo code or a free ticket to your next presentation."
While working on this case study we again tested Interacty in action. Take a look: here's a simple marketing game that informs users about Alconost's services. It took us less than an hour to come up with this game.
"Interacty users include IT companies, niche web resources, advertising agencies, and even major corporate clients, such as pharmaceutical giant Merck. Everyone needs interactive marketing content," Interacty concludes. "Our platform is a tool that lets you gamify marketing. How engrossing and viral the content ends up being naturally depends on the user's own ideas. But we know that our platform can benefit clients even more, and we're working to make that happen."
We're grateful to the founders of Interacty for their involvement in creating the explainer video and their constructive feedback, and we wish their startup every success!
Order a logical, original animated explainer video for your product from Alconost!