Full HP is an international mobile game development company with 40+ employees and offices in Rostov-on-Don and in Cyprus. Their portfolio includes 8 games, the most popular of which are Mad GunZ (a Google Play editor's pick) and Blocky Cars (a Catappult editor's pick).
Blocky Cars was released in 2015 году, and Mad GunZ in July of 2017. As of February of 2020, Blocky Cars had over 42 million downloads, and Mad GunZ had over 12 million downloads across all platforms.
Both games are available in 12 languages. The company's localization process is constructed as follows:
early access in Russia;

early access in the MULTI-5 countries (English, French, Spanish, German, and Italian);

ASO localization from English into the other MULTI-5 languages;

a global release in Arabic, Korean, Japanese, Chinese, and Thai, with subsequent ASO localization.
There is not much text in games for children, so Full HP has switched completely to Nitro both for game localization and for store page translation.
«We tried working with freelance translators, but it was inconvenient and time-consuming. We switched entirely to Nitro, because our translations were ready quickly — as fast as within 2 hours — and all the questions about translation nuances are conveniently resolved through a manager via chat.»

Lydia Musakaeva

Full HP's ASO specialist
Certain game terms require an explanation — Mad GunZ, for example, has highly specific names for its weaponry — so Full HP leaves explanations in comments for its order with Nitro, and these comments automatically reach each of the translators working on the order.
Full HP takes the matter of ASO seriously, and they work through and regularly check each target country. Most frequently metadata has to be rewritten for Japan and Korea, and least frequently for the USA.
In the experience of Full HP, after localizing a page conversion increases by an average of 3-5% of the total number of users who reach the page.
The most dramatic effect of localization was observed in Germany. The English-language page had a fairly low conversion rate: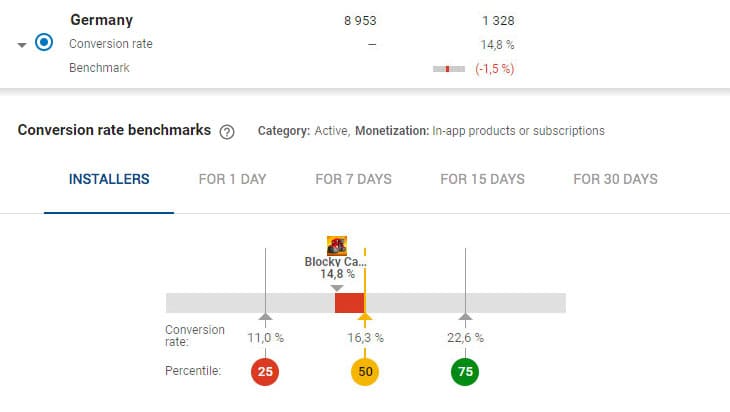 Conversion prior to page localization (Germany)
When the description and screenshots had been translated into German and keywords had been selected, not only did conversion increase (+25%), but also the number of visitors to the page (+28%).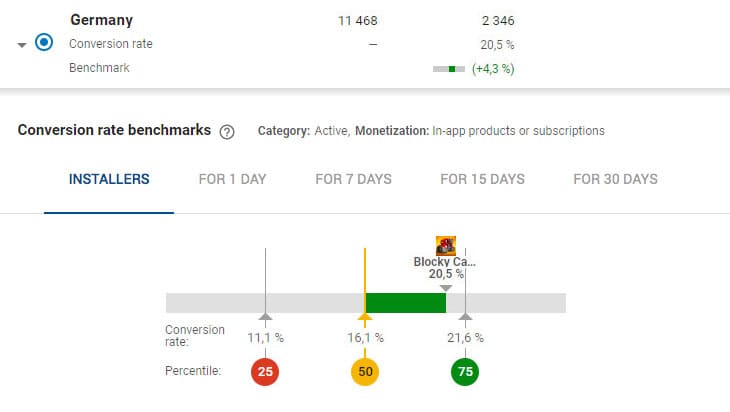 Conversion rate after page localization into German
Both games were featured on Google Play. Interestingly, in addition to a certain degree of profitability, the number of downloads, and the absence of bugs, localization also affected featuring on Google Play: 99% of featured apps are localized into at least 2 languages, and more than half are localized into 6 languages or more.
The example of Brazilian players and Mad GunZ demonstrates that when a game is featured it benefits from having localized versions. Originally Mad GunZ was released on the alternative platform Catappult in English only. Featuring produced a wave of interest from players in Brazil, but soon after featuring ended the numbers dropped back to where they had been. After Full HP localized the game and the app page into Brazilian Portugese, the install numbers started to climb again.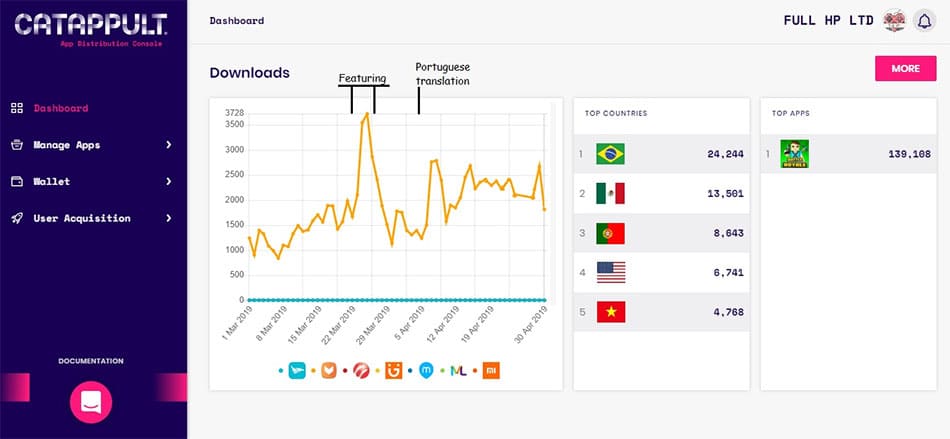 This chart shows featuring and localization into Portuguese. The top countries are Brazil, Mexico, Portugal, USA, and Vietnam.
You can read the full text of the article about localization of Mad GunZ and Blocky Cars on our blog. The Full HP team talks about special aspects of ASO for Asian countries, how to be featured, and how to monetize children's games.