Bandsintown Concerts is the most popular mobile app for finding concerts: it is the top-rated app in its category on the AppStore, and it leads its category on Google Play in terms of number of downloads. Reviews of the app have called it the most complete and versatile solution. It can help you find out which concerts take place in a particular city and the surrounding region, buy tickets, talk about concerts with friends, and follow the tours of performers. You get all of this with notifications, integration with all social networks, and adaptation to your personal preferences.
Launched in 2011 as a set of convenient tools that allow artists to promote themselves on social networks, Bandsintown has grown to 30 million registered users in the space of five years. The service started thinking about entering new markets, and it turned to us for localization.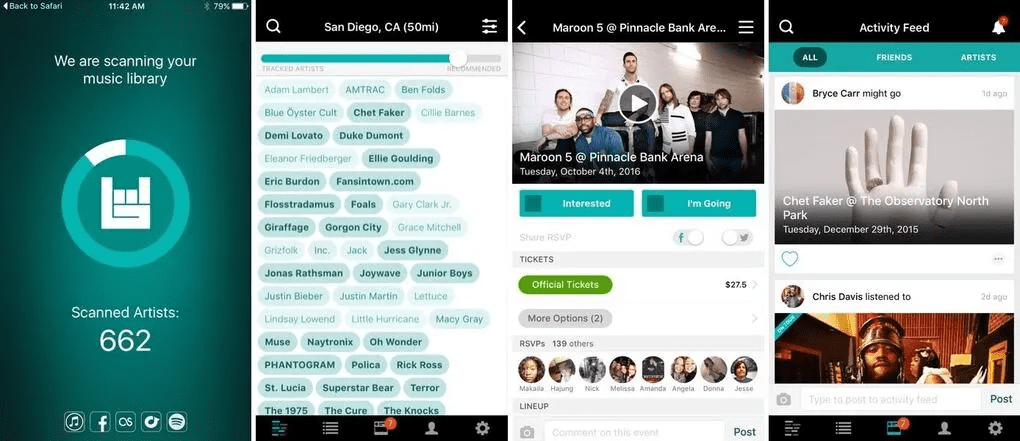 The founders of Bandsintown (USA) found us through our partner Crowdin. Alconost uses this platform to carry out many seamless localization projects.
In June 2016 we translated the Bandsintown Concerts app for iOS and Android from English into French and Spanish. In September we added German, Italian, Portuguese, and Japanese versions. In addition, we also continue to translate marketing materials, mailings, and updates for Bandsintown.
We completed all these projects in Crowdin, which provides an optimal environment both for quality translation and for managing large-scale localization. Alconost managers helped Bandsintown colleagues deal with fine-tuning the platform, and the project turned out to be painless for everyone.
«We had to rethink our development process to accommodate the ongoing localization, but it was worth it, because we had already started to enter these new markets, after all. Thank you so much for helping us grow.»
Jessie Ridgeway
Lead developer of the Bandsintown project