The quest room (escape room, reality quest, real-life room escape) is a problem-solving team game. During the game a team of 2-6 people is trapped in a closed room, and they only have an hour to escape. In order to get out of the escape room, the team must figure out intricate and unusual puzzles, find clues, and use quest items correctly.
Every detail of the quest room, including the script, scenery, lighting, sounds, and even smells, should be designed to ensure that players receive unforgettable impressions and have fun during the game.
A St. Petersburg quest room developer turned to us for voiceover recordings for his escape rooms, and we enthusiastically set to work.
Kosmos: postproduction for a virtual reality quest room
The Kosmos quest room, which was developed by Avatarico, takes place in virtual reality. After they put on VR goggles, the players find themselves on a space station where there is no gravity. They fly in weightlessness, shoot lasers, use telekinesis, and together solve puzzles to escape from the station alive in under an hour.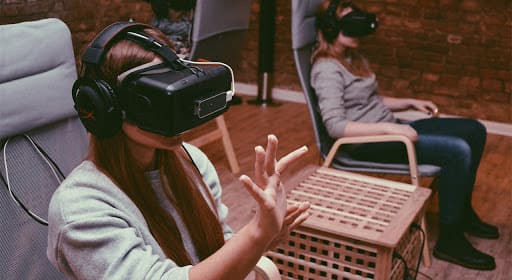 For this quest, we recorded voiceovers in English, German, Spanish, and Catalan.
In addition to the neutral role of the Narrator, each voiceover artist was required to voice three additional characters: Artificial Intelligence, Underworld Entity, and Robot Assistant. The Artificial Intelligence actually combines three roles in one (his voice changes depending on the game situation), and the Underworld Entity consists of two roles: Pyramid and Creepy Whisper. So, in fact, each voiceover artist performed seven roles!
To enhance the effect and charge the atmosphere, the lines spoken by a majority of the characters were processed after the recording. Compare, for example, how the funny Robot Helper sounded in Spanish before processing and what it sounds like after processing.
And to sense the magic that you can create through sound effects, listen to the lines spoken by the Pyramid in German before — and after.
Alice: a voiceover for a room quest with a fairy-tale storyline
For the Alice quest by Lostroom, we recorded the lines of the Queen of Hearts and Humpty Dumpty. We had to record just one short phrase for each character, but the client had strict requirements. After all, these are the only voiceovers of the entire quest.
We made recordings for the English, Spanish, Catalan, and Russian versions of the quest. We completed multiple takes for each phrase so that the client could choose the one with the most appropriate intonation.
It was certainly an interesting fact of the project that, for each language except Spanish, both characters were voiced by one actor. Here is the Queen's exclamation and Humpty Dumpty's hint as performed by Vyacheslav, one of our Russian voice actors.
And for the English version of the quest, both roles were performed by actress Karen.
Alconost would like to thank Anton Zaitsev for trusting us with the job and for the great pleasure of working on both projects!

«Many thanks to Natalie, the project manager. She was not only able to constructively respond to all inquiries, but she was always able to maintain the warm tone of the conversation. For certain lines we did five or more takes. We always received a reply to our requests. One thing's for sure: Alconost gets the most out of their voice actors. Whatever you're looking for, they make it happen. :) It's nice that the company is ready to fulfill complex, unusual orders. There are many artists with "advertising-sounding" voices in the marketplace. It's nice to be able to assign a complex voice acting job to a project manager and to make corrections. And all this in several languages!»
Anton Zaitsev
Creative Director of Avatarico and Lostroom
Do you need a voiceover?