Holidays are always high season for businesses. Marketologists come up with various activities so as to take advantage of the moment and turn a maximum profit. For mobile game developers, holidays likewise present a wide field for experimentation.
Maximum profit is achieved on Black Friday and during the Christmas and New Year season. For example, in 2019 gamers around the world spent $277 million on mobile games over Christmas, with those in the USA spending $70 million on Black Friday, breaking the record set the previous year. In many ways these profits are influenced by in-game events and special offers.
But what's the best way to keep users in the game the rest of the year, outside these universally beloved holidays? And how do you balance the expenses of preparing these events with the hoped-for profits?
Let's take a look at how to leverage holidays throughout the year and use special offers to attract users. In this article you'll also find a calendar of holidays and helpful hints for successful event planning.
What good are events, anyway?
Events are a terrific opportunity to use creative content to attract new users, and to draw old users back into the game, thereby boosting your profits.
Furthermore, events are great for testing new ideas and hypotheses. During events you can try out new features, play around with new types of content, and then decide whether or not to include them in your permanent repertoire.
Events also directly affect your users' average spending level. A holiday atmosphere encourages users to more readily spend the money and game resources they've been saving leading up to the holidays.
For developers, planning a serious event can be quite stressful. This can be mitigated by planning for holidays well in advance. The Christmas season comes every year, and your events aren't going to plan themselves.
We recommend drawing up an event plan six months to a year in advance, to help you assess which events should be prepared for ahead of time. Your team needs to leave time and energy not just for major updates, but for additional in-game events as well.
If your players are from different countries around the globe, it's important to have translations of new content ready to go. Since these texts are usually fairly short, and you may need translations into multiple languages, the best option is to translate them using professional translation services like Nitro.
You won't need to go looking for 10–20 translators to cover each of your languages. Just check off the languages you need. Nitro handles translations as short as a single word, and you'll receive your finished translations within 24 hours — sometimes within just a couple of hours. It's ideal for translating small updates!
Which holidays to pick, and how?
Obviously, Christmas and Black Friday are not the only holidays out there. Besides, these holidays are most popular among American and European users, and audiences in other parts of the world, such as Latin America and Asia, are very promising.
The easiest thing you can do is link your in-game events to popular holidays that are celebrated nearly everywhere: Halloween, Black Friday, Christmas, New Year's Day, and the Chinese New Year.
Mobile game developers appreciate Halloween for its universal symbols, such as pumpkins, vampires, and monsters. All these are easy to organically incorporate into nearly any product around October.
Keep in mind, however, whether an event is appropriate in the context of your app: a mushy romantic game is hardly the best setting for classic Halloween decor. You can work in the theme in more lighthearted ways: smiling pumpkins, funny bats, cute little monsters.
Logically, it makes the most sense to select holidays that match your users' locale. In the majority of Asian countries (except for Japan), the Lunar New Year is the most important holiday of the year. Easter events are popular among European and American users, but would be inappropriate for an Arab audience.
Pay special attention to emerging markets, which are growing at incredible speed, and experiment with events created especially for them. These markets include Latin America, Southeast Asia, and the MENA region.
Users in Arab countries are renowned for their high ARPPU (Average Revenue Per Paying User). During the Islamic holiday of Ramadan, which lasts for a month, Arab users spend serious money while gaming — just like their English-speaking counterparts during the Christmas season.
Here's a brief holiday calendar to inspire you with ideas for new game content:
Winter holidays
December 25 — Christmas (Catholics and Protestants)
December 31/January 1 — New Year's Day (nearly everywhere except Asia)
January–February — Lunar New Year/Spring Festival (China and Southeast Asia; in Japan New Year's Day is celebrated January 1)
February 14 — Valentine's Day (nearly everywhere except Asia)
February–March — Chinese Lantern Festival
February–March — Brazilian Carnaval
Spring holidays
March 17 — St. Patrick's Day (Ireland and English-speaking countries)
March–April — Hanami, the Cherry Blossom Festival (Japan)
April–May — Ramadan (Arab countries)
April — Easter (USA, Russia, Europe)
April 29–May 5 — Golden Week in Japan (long weekends)
May–June — Dragon Boat Festival (China)
Summer holidays
June 20 — Midsummer, the summer solstice holiday (Sweden and Finland)
Early July — the week-long Fiesta del Fuego (Cuba)
July 7/August 7 — the vivid and romantic holiday of Tanabata (Japan)
July 20 — Friendship Day (Latin America)
Autumn holidays
September — Mid-Autumn Festival (Asia)
September–October — Oktoberfest (Europe)
October 1 — National Day of the People's Republic of China (China)
October 27 — Diwali, the festival of lights (India, Malaysia)
October 31 — Halloween (USA)
November 11 — Singles' Day or Double 11, when major sales are held (China)
Late November — Thanksgiving and Black Friday, a time of major sales (primarily in the USA, but Black Friday as a commercial holiday has gained popularity in other countries as well)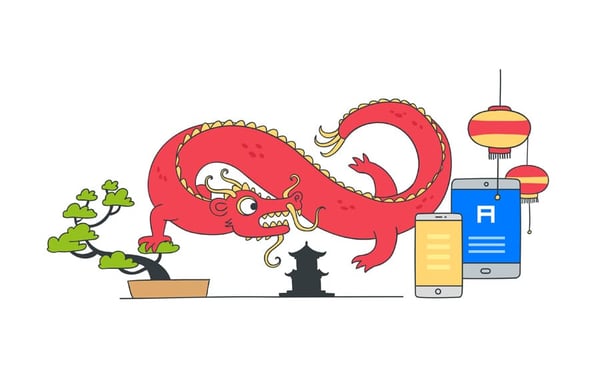 alconost.com
As you may have noticed, many holidays have moveable dates, and can last for several days. For example, Black Friday usually doesn't stop at Friday: sales begin on Thanksgiving itself (Thursday), and end on Monday, which has now become Cyber Monday — a special day for online sales. In games, holidays like Halloween and Christmas may go on for weeks.
Some countries have special holidays just for women or for men. In Japan, March 3 is Girls' Day, while May 5th is Boys' Day. In Russia and many of the CIS countries, March 8 and February 23 fill the same role. And the USA and other English-speaking countries celebrate Mother's Day and Father's Day (the dates of which vary by country).
Many holidays have their own specific symbols, and these can be used in holiday skins: different colored lanterns (Ramadan), cherry trees in full bloom, Easter bunnies and chocolate eggs (for Western cultures), etc. Holidays can also be used as an occasion for promotions.
Be careful with your translations when introducing new characters for holiday events. Take the Narcade team: for Valentine's Day they decided to give their game's cat protagonist a girlfriend. The two feline lovebirds were named Tia and Mia. The problem was that those names give no hint as to which of them is male and which is female, which is crucial for translations into many languages, including Italian, Spanish, and Russian. Fortunately, the folks at Narcade remembered to leave a note for the translator in their Nitro order: as it turned out, Tia is male and Mia is female.
How do you observe holidays within a game?
Holidays can be observed in many different ways, from decorating the icon (usually an indication of new game content) or thematic skins to holiday-themed quests, new levels, and in-game objects.
Each year World of Warcraft holds an event called Hallow's End (the Russian version plays off the word tykva, or pumpkin; the German employs a term meaning "scary night"; and the Italian uses "shadows"). Hallow's End is an in-game version of Halloween and is celebrated from October 18 to November 1. During this period the game acquires new characters, pumpkin-flavored treats, costumes, and so on.
One subtlety of holiday events is worth noting. The goal of the mobile game developer is to entertain players with fresh new content, yet come out on top by netting more than is spent on development. As a rule, companies generally plan for 2–3 large-scale events a year, since preparation takes time and the cost is high.
Players, however, expect new developments at least once a month. For this you can use less important holidays, or even make up your own! For example, you might include the game's anniversary, the summer or winter solstice, International Talk Like A Pirate Day, and so on.
These kinds of minor holidays can be added to the game using live-ops. Live-ops are changes to the project that you make without releasing a new version or an update. The way it works is this: the new feature is put in place beforehand, and is automatically made available to players at a predetermined moment. Plus, you don't have to sit around waiting for store approval, uncertain of whether your event will make it into the game by the deadline.
Examples of events from various games
In Dota 2, the annual winter holidays Frostivus (celebrated around Christmas time) and New Bloom (coincides with the Chinese New Year festivities).
In World of Warcraft, around Oktoberfest the game's universe observes Brewfest. The game has also established events surrounding International Talk Like A Pirate Day.
World of Warcraft holds an event called "Love is in the Air," based on Valentine's Day.
World of Tanks observes Kupala Night — a holiday celebrated in Eastern Europe, also known as St. John's Eve. A flower opens the locks of all treasure vaults.
Mad GunZ has an arsenal of winter weaponry that users can only acquire during the holiday season.
The game Magic Jigsaw Puzzles came up with their "Winter Story" event, the point of which is to collect holiday currency, advance a sleigh closer to Santa, and collect prizes.


How to attract users to events?
Creating an event is only half the battle. After that comes the all-important task of attracting users, encouraging them to make in-game purchases and take part in the activities you've organized.
Here are a couple of ideas for how to accomplish this:
1. Push notifications. Send existing users a push notification to let them know about your upcoming event. Add emoji to your notifications: experiments conducted by the company Pixonic have shown that emoji boost a notification's effectiveness.
Here are a few sample push notifications to get your creative juices flowing:
SUMMER SALE Summer is the best time of year! Don't miss the best summer offer: everything is 50% off!
The hottest offer these warm summer days: get twice as much stuff for the same price!
HARVEST FESTIVAL The end of summer is the most abundant season. It's time to harvest — everything is 50% off!
HALLOWEEN brings scary good prices: everything is 50% off! Price Crash!
BLACK FRIDAY Don't miss a very good deal: you get twice as much stuff for the same price!

2. Social networks. Announce your special offer or event on social networks, and hold holiday event-themed contests to attract a larger audience.

3. What's New. Don't forget to give glowing descriptions of new features in your "What's New" section. This will bring old users back into the game and attract new ones.
Wrapping it up
Today, in-game events are an absolute must-have for obtaining additional profit and maintaining user interest for as long as possible. Mini-events and special offers are one more way to remind players that you're there and keep them in the game.
Fall and winter with their colorful bouquet of holidays are just around the corner, so now's the time to start coming up with events. To translate texts for events and special offers quickly and efficiently, we suggest using Nitro, our human translation platform. The convenient self-service mode allows you to place an order right away and receive the translated content within 24 hours. Give it a try!