This information will be useful to you if you plan to release your service, application, or game onto foreign markets and have not yet decided which languages are your priority, or if you have already localized your product into key languages and are looking for additional markets where it could really "fly."
Firstly, a few words about who we are and why conclusions can be drawn from our statistics. Here at Alconost, we provide professional localization services for applications, games, and web services. Our clients are major players in the IT market, as well as small teams and indie developers. Since 2004, we have helped over 2,000 IT companies from around the world launch their products onto new markets.
Clients regularly ask us: "What languages would you advise us to translate into?" We're going to give you a fact-based answer. We've analyzed our orders for 2020 and put together some statistics, infographics, and analytics about the languages chosen by our customers for you to analyze for yourself.
For this overview, orders for translation from English by Alconost's localization department were reviewed.
The top 12 languages for localization from English
In 2020, our clients translated from English into 89 languages. We would like to emphasize that the vast majority of our clients translate from English, while orders for localization from other languages account for less than 3% of cases.
So let's see which languages are the most popular for localization of software, applications, and games from English.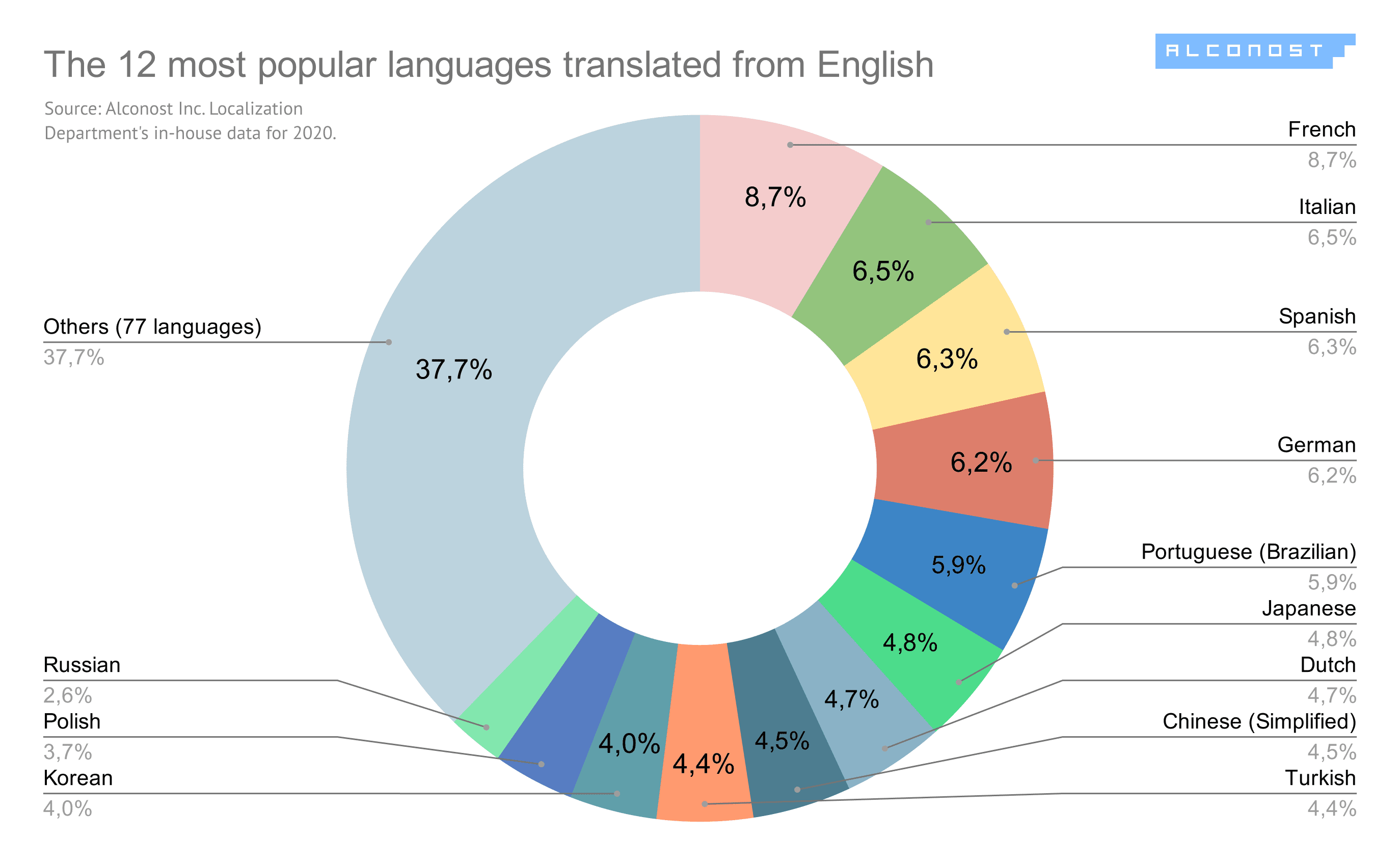 Diagram #1. The proportion of translations into the top 12 languages represents 62.3% of the total volume of orders for localization from English.
Are you surprised? Yes, even localizing into all 12 of the most popular languages will only meet the needs of two thirds of the potential audience. To cover the remaining third, localization into the additional 70+ languages will be required.
Let's take a closer look at the top languages, and then go through a brief rundown of the statistics regarding translation into less popular languages.
The ranking leaders: the classic FIGS… and beyond
There are four languages that are considered to be the "classics of localization." These are French, Italian, German, and Spanish. They even have their own designation: the abbreviation FIGS, or, if we include English, EFIGS. Translations from English into these languages are at the top of our list.
The clear leader is French: one in every eleven translation orders from English were into this language. The popularity of Italian, Spanish, and German for localization is almost the same, but the gap between them and French is still quite noticeable.
Look at the distribution of the proportion of translations from English into the top five languages: localization into French accounts for more than 25%, while into the other three "classic" languages, it is an average of 19% each.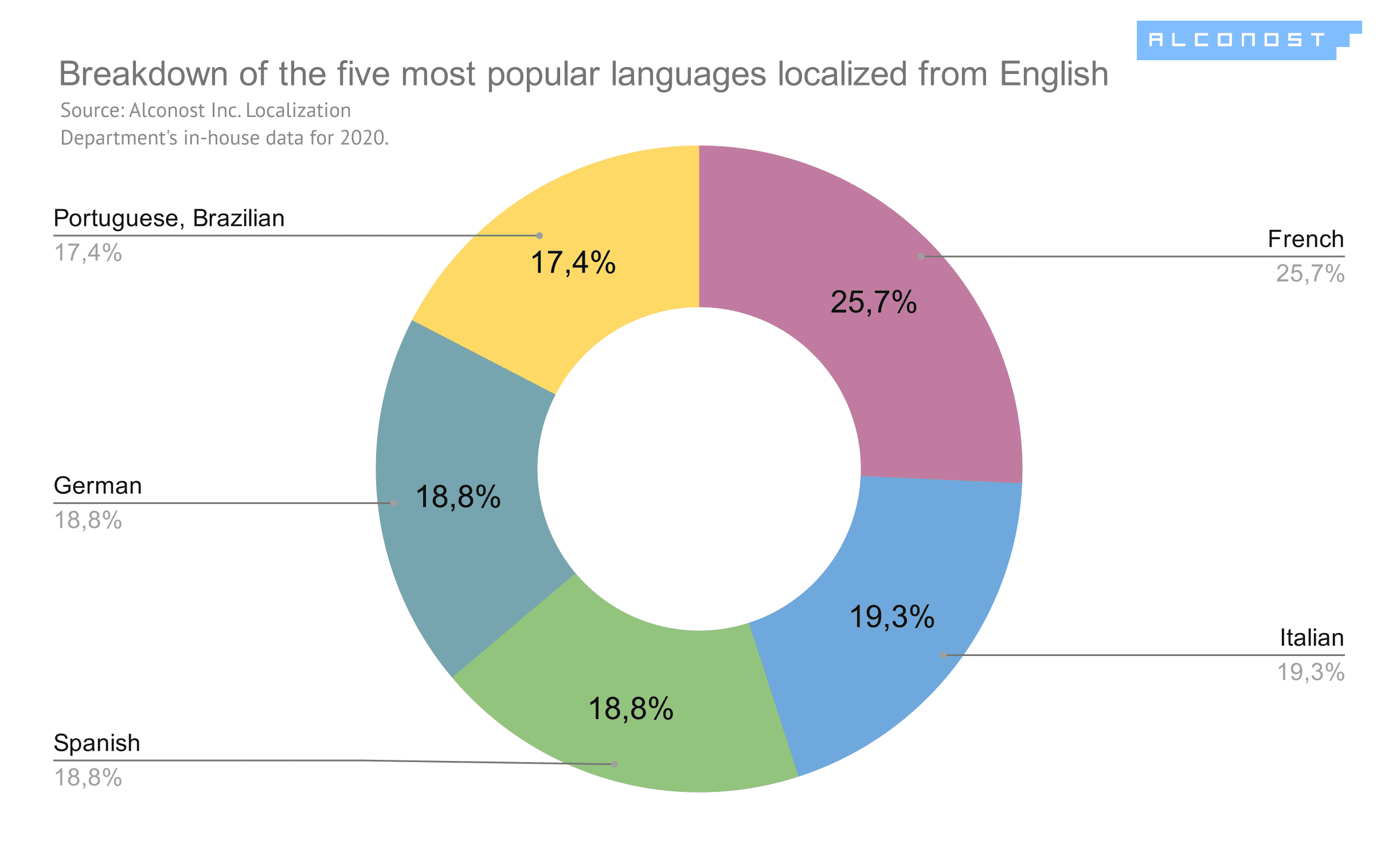 Diagram #2. The most popular languages for translation from English among Alconost customers are French, Italian, Spanish, and German.
The world is becoming more and more global, however, and new languages are being added to the "European classics." For our clients, Brazilian Portuguese has become the "new classic" of localization in 2020: it is hot on the heels of the leading four, just slightly behind German and Spanish.
Choosing a language or choosing a country?
Here's an interesting fact: Brazilian Portuguese is the only language in our top five that does not correspond to its country of origin. Thus, French can also be Canadian (by the way, if you are interested in this area, here are our market overview and localization tips for Canada). Spanish has several varieties: Argentinean, Colombian, and Mexican, for example. And although we translate into all these dialects (and translations into "Mexican" Spanish are even included in our top 20), French and Spanish are most often ordered by our clients for Europe, while Portuguese tends to be specifically intended for Latin America (Brazil).
In our opinion, this is why Brazilian Portuguese is popular for localization. Brazil is among the top 10 countries in terms of its economy, and in the top three in terms of the number of downloads in Google Play and the App Store, and it also has a high level of purchasing power. By the way, we've carefully studied the mobile games and applications market in Brazil; read our overview.
Need help with choosing a language or a country for localization?
Looking eastward
With a noticeable gap to Brazilian Portuguese, Japanese ranks sixth in the top languages. Yes, localization into this language is ahead of localization into Simplified Chinese in our ranking! We believe this is because Japan is the third largest gaming market in the world, and game localization is one of our key competencies.
In addition, the payment capacity of the Japanese market should not be underestimated; its monthly ARPU is five times higher than that of the Chinese market. And although finding a foothold in the Japanese market is no easy task for a foreign developer, the potential difficulties do not detract from the attractiveness of this country for promoting IT products.
As for Chinese, localization into its simplified version takes 8th place in our ranking, while translations into traditional Chinese are ranked 13th.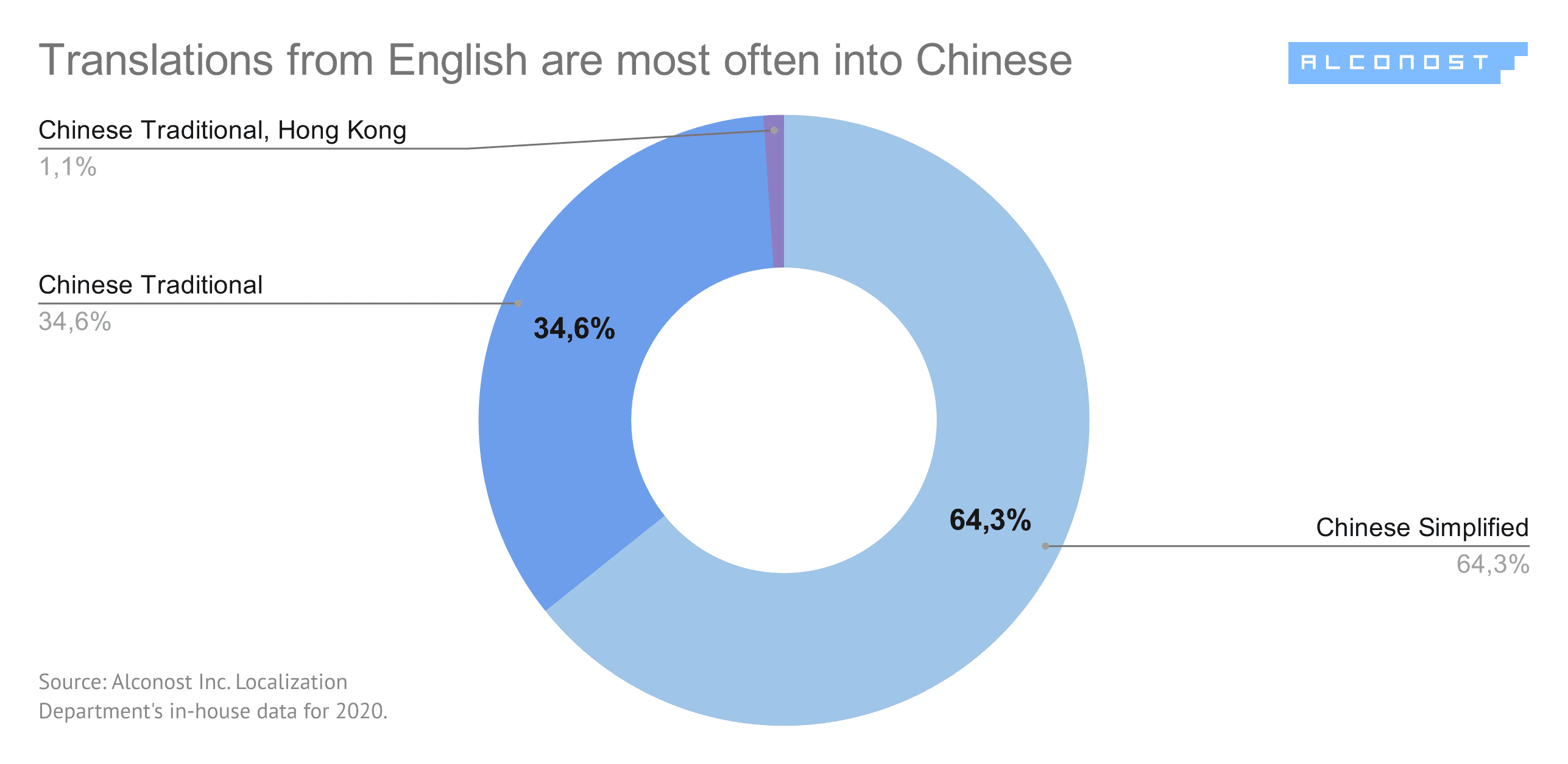 Diagram #3. We have translated almost twice as many orders from English into Simplified Chinese than into Traditional Chinese.
Developers take into account the differences between the varieties of Chinese language when choosing the region in which they plan to promote their product. Thus, Simplified Chinese, also called "Mandarin," is used in translations for users from mainland China. Traditional Chinese and other dialects of Chinese, however, are generally used in localizations for users from Taiwan or Hong Kong.
Back east… via the Netherlands
Interestingly and rather unexpectedly, Dutch finds itself sandwiched between the two popular languages of the Asian region: Japanese in 6th place and Simplified Chinese in 8th. In our opinion, there are several reasons for its popularity for localization. Among them are its payment capacity and well-developed internet infrastructure, as well as the high loyalty of Dutch users of content in their native language.

By the way, here's an interesting fact about the game development industry in the Netherlands: this country was the first in Europe to make game design an academic discipline.

Rounding out the top ten are Turkish and Korean. These countries have been of particular interest to game developers in recent years. Indeed, among the countries of the Middle East and North Africa, it is Turkey that yields the highest income for game developers, while the Korean game market is the fourth most profitable in the world.
According to our observations, localization into Korean has been in steady demand for many years. Moreover, in the past few years, Turkish has become more and more popular among game developers.
What lies beyond the top 10?
The second group of ten languages in the ranking is topped by translations from English into Polish. The number of orders for this language direction is quite a bit behind the English-Korean pairing.
Interestingly, translations from English into Russian, which is spoken by about 260 million people in the world, are less popular than translations into Polish, the total number of speakers of which is about 40 million. And this is far from an isolated case of the number of speakers not correlating with the popularity of the language for translation. Let's consider this peculiarity in more detail.
Does the total number of speakers affect the language's popularity for localization?
According to our observations, this is more likely to be a "no" than a "yes." We have already cited the example of Polish and Russian above. Here's another example: the total number of Japanese speakers is about 140 million (compared with 260 million Russian speakers), but translations from English into Russian are only 12th in our ranking, while English into Japanese is 6th.
And here's yet another example. There are dozens of times fewer Dutch speakers than Simplified Chinese speakers, but this gap has barely any effect on the popularity of both languages for localization from English. They occupy seventh and eighth places in our ranking, respectively, with only a very small margin between them.
We've also noticed the same trend outside of the top languages. For example, the total number of Vietnamese speakers amounts to approximately 90 million; Indonesian is 2.2 times more widely spoken, and Hindi is almost 7 times more widely spoken. Nevertheless, the number of orders for translation from English into each of these languages was almost the same in 2020.
If we continue to analyze Asian countries, we see a similar picture with the languages of Malaysia and Thailand. Our clients are interested in localization into Thai almost twice as often as they request translations into Malay, and this is despite the fact that four times fewer people on Earth speak Thai than Malay.
What should you consider when choosing a language for localization?
When choosing a new market into which you wish to upscale your product, it is not enough just to focus on the total number of speakers of a particular language. At the very least, it is important to take into account the saturation of the market, the payment capacity of the audience, the level of proficiency in English, and the prevalence of other languages in the country.
When making your decision, it wouldn't hurt to consider data regarding the activity of competitors and the popularity of online payments in the country of interest either. In addition, in order to build the most promising promotional strategy, you need to choose a specific goal: the quality of users or the number thereof.
How should you get started when it comes to localizing a game or application? This depends on the budget, of course. Our clients, as a rule, start by localizing the product interface, while translating help documentation and the website in parallel. For mobile applications, along with the UI, they localize descriptions and screenshots for stores. If there are local marketing campaigns, advertising content is also translated, such as text ads, banners, and promotional videos.
If the investment into promoting the product in the new market pays off, you can move on to localizing materials for the community. In particular, this might mean running product groups on social media and providing support to users in their native language.
Regardless of what product release stage you're currently at, contact us here at Alconost for localization. We translate services, websites, games, and applications into 70+ languages.
Bonus: the popularity of languages for localization in specific regions
1. The Languages of Northern Europe. Even though Scandinavian countries have a high level of proficiency in English, using an application, service, or game in one's native language is much more enjoyable.

For our clients who were translating from English, Swedish was of particular interest among the languages of Northern Europe. Norwegian and Danish lag behind the leader somewhat, but between them, there's not much of a divide. The popularity of the Finnish market among our clients is noticeably lower, although we believe the prospects for game developers in this country are of great interest.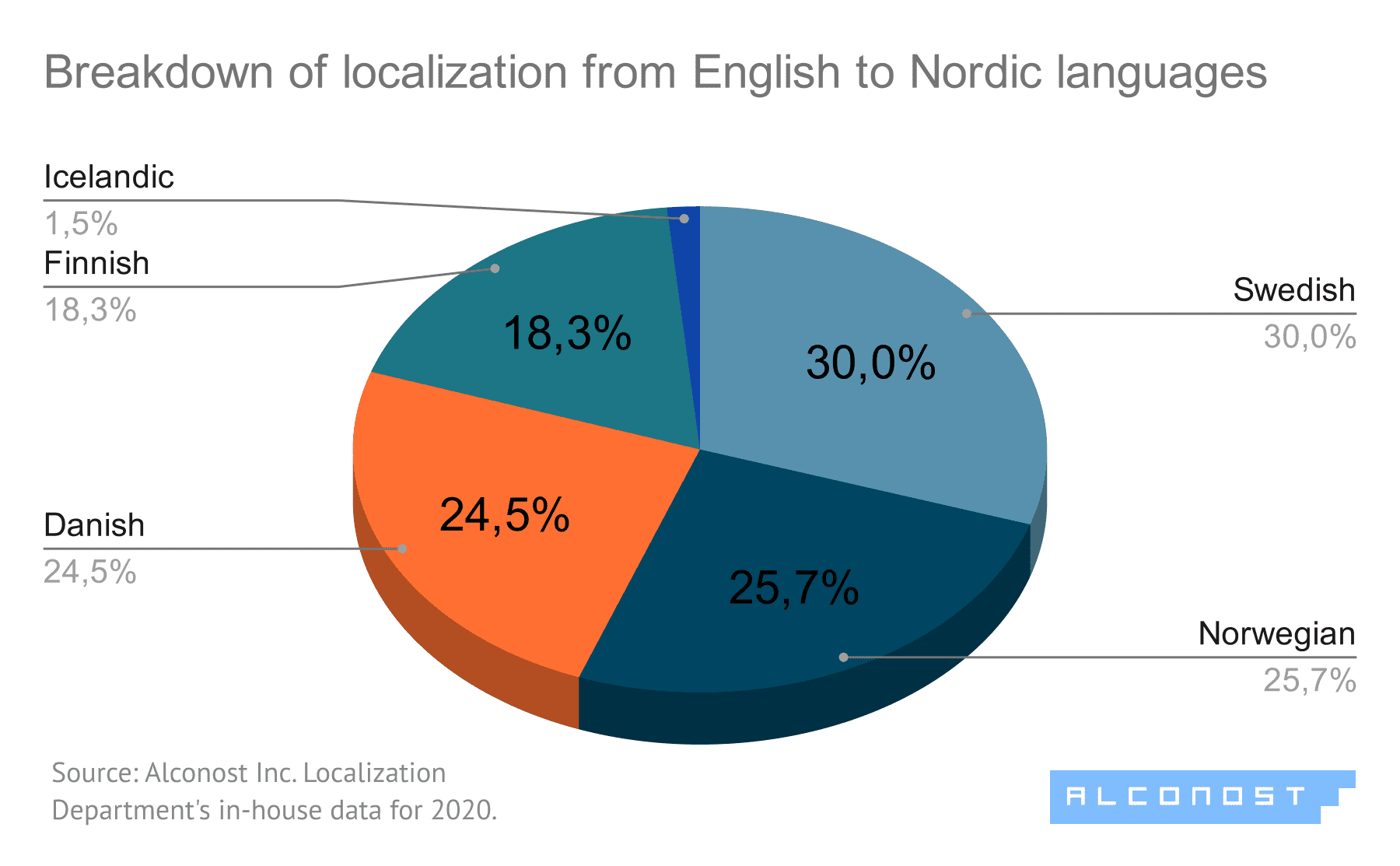 Here's an interesting fact: in 2020, we even translated from English into Icelandic, which is spoken by about 0.3 million people around the world.
2. The Languages of Central Europe. Polish is the most popular among our clients: it occupies 11th place in terms of the number of translations from English. It is followed by Czech, by quite a margin. Slightly lower than Czech is Hungarian, while Slovak rounds out this quartet.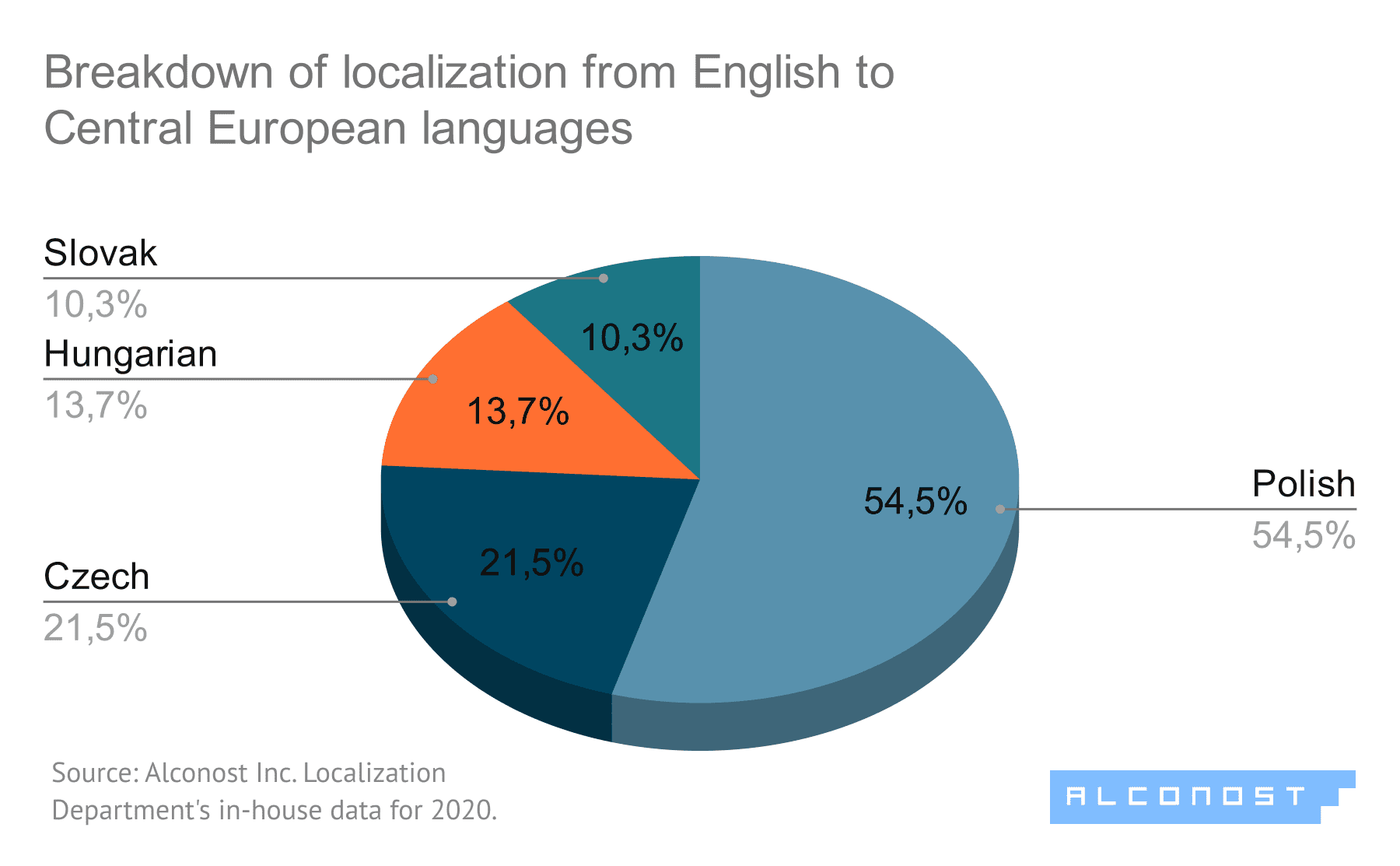 3. For the languages of Southern Europe, in addition to Spanish, Italian, and Turkish, which are included in the top 10, and European Portuguese, which is 16th in our ranking, it is worth directing your attention to Romanian: it is the 24th most popular language for localization from English.
4. Are you looking to choose one or more Asian languages for localization? Here's how the proportions were distributed in terms of translation from English into the languages of Asia.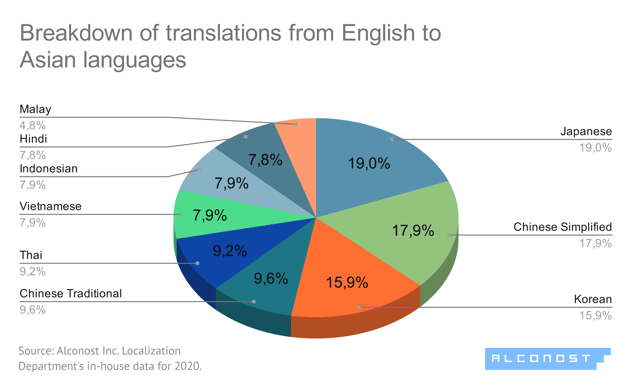 5. And here are some useful statistics regarding the popularity of Middle Eastern languages for the localization of IT products. You can learn more about the specifics of localization into Arabic in our overview.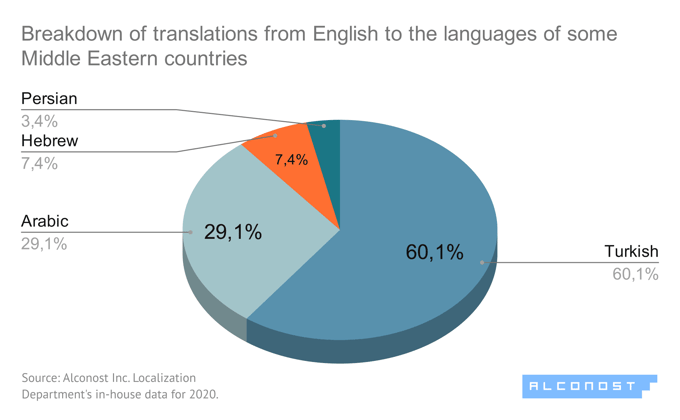 Country-specific market overviews and localization recommendations specifically for them from Alconost
The experience of developers in localizing their applications into dozens of languages