Many app developers look to foreign markets for audience expansion. And this is an excellent growth hack, but in addition to the game itself you have to translate the game's page — in other words, localize your ASO.
Localized ASO helps users easily find your app in their own language. Take a look at how RetouchMe (a professional photo retouching app) jumped in the rankings after metadata localization into 10 languages: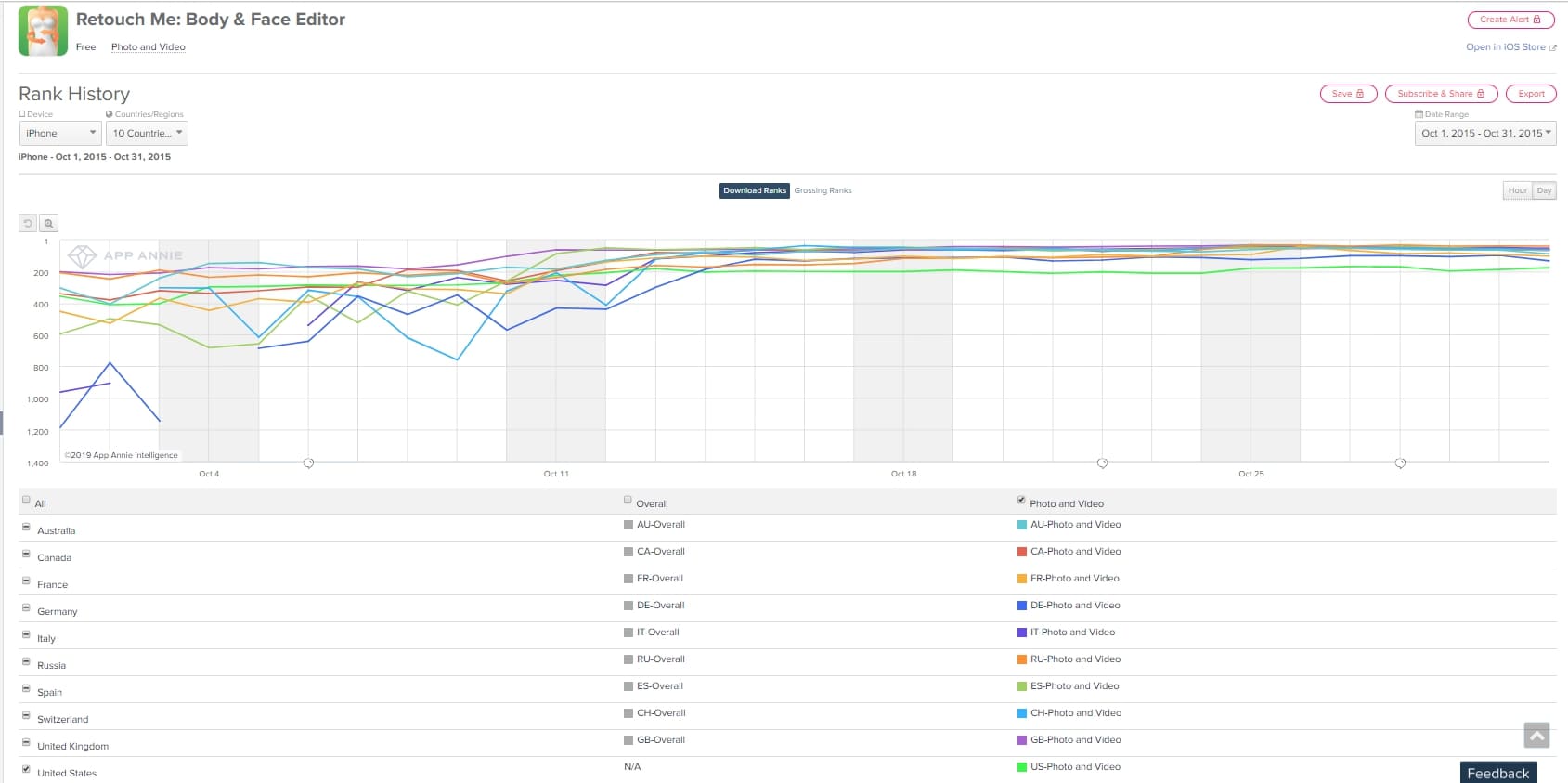 After this success RetouchMe was localized into 35 languages.
Now let's see what elements on the App Store/Google Play page need to be localized.
Localization of page text
Title and subtitle. There is usually one English name that is preserved for all languages. Sometimes the name may be translated or transliterated: Blocky Cars — Bloklu Arabalar (in Turkish), and Tinder — 틴더 (pronounced "Tindeo" in Korean).
Look how the name of the game Blocky Cars changes depending on locale. For China and Turkey the name was translated, while retaining the original (Blocky Cars) in parentheses.

Top keywords for each locale must be determined and employed in the title. For Italy the keyword "online game" was used in the name, while for Great Britain it was "online shooting game," and for Turkey — "tank game," while for China and France the name simply includes the English keywords.
The subtitle is found only in the App Store. Here you can add the keywords that didn't fit into the title.
Description. Google Play includes a short description — the first 80 characters of the description. These are those 1-2 lines that can be clicked in order to read the full description.
Some developers translate only these few lines in order to attract new users. But if your description contains important information on gaming modes, conditions of usage, etc., the full description should be translated.
Remember that the App Store and Google Play index different metadata: the App Store indexes the title, subtitle, and keywords, while Google Play indexes the entire text on the app page, including the name of the developer.
Keywords. Although ASO is often called "SEO for mobile apps," a keyword must not be judged by how often it turns up in a web search. App stores have their own top keywords!
Suppose your ASO works in the USA, and you decide to try the same set of keywords in Great Britain, Canada, and Australia. It's not going to work. The thing is, although these countries share the same language, there are differences from one country to the next. For example, American English uses the term "vacation," while in British English "holiday" is used.
Consequently, search queries will also differ. The same is true of Portuguese in Brazil vs. Portugal, French of France vs. Canadian French, and also Spanish-speaking countries: what works in Spain may not work in Mexico, Argentina, and others.
In some countries several languages are spoken, meaning that you can add 2-3 languages for that country and increase your audience reach. For example, the USA has English (US) and Mexican Spanish, and Switzerland has German, Italian, French, and English (UK). Click here for a full chart of additional languages in the App Store.
Important! ASO optimization is different for Google Play and the App Store, so you cannot use the same keywords for both Google Play and the App Store. This is why the same apps in the App Store and on Google Play frequently have different titles.

Localization of page graphics
In addition to text, ASO optimization also pertains to graphic images, particularly icons and screenshots.
The icon is typically left unchanged for various locales, but some companies experiment with the icon style — see the icon of War Robots by Pixonic: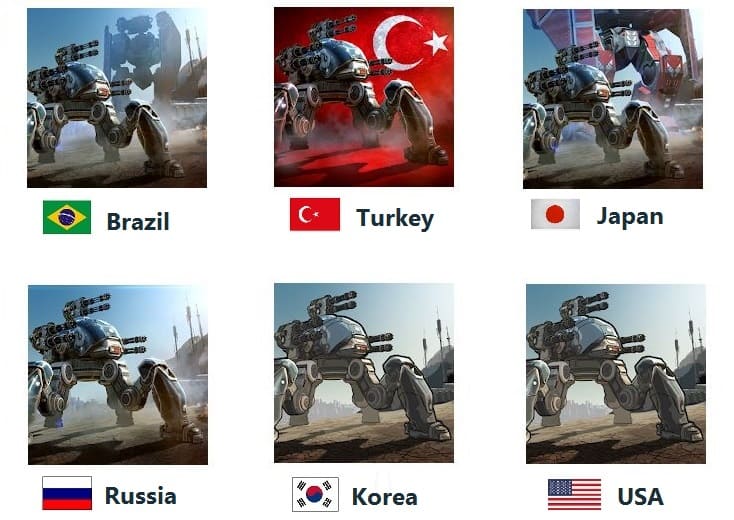 Screenshots. Many optimize screenshots for a particular locale. This matters less for games, but for apps it frequently makes sense, especially if people are depicted in the screenshots.
Most often one type of screenshot is used for Europe and the Americas, and another for Asia (namely Japan, Korea, and China; other Asian countries are shown the Western-style screenshots). Depending on the type of app, screenshots may be specially created for Brazilian and Arab audiences.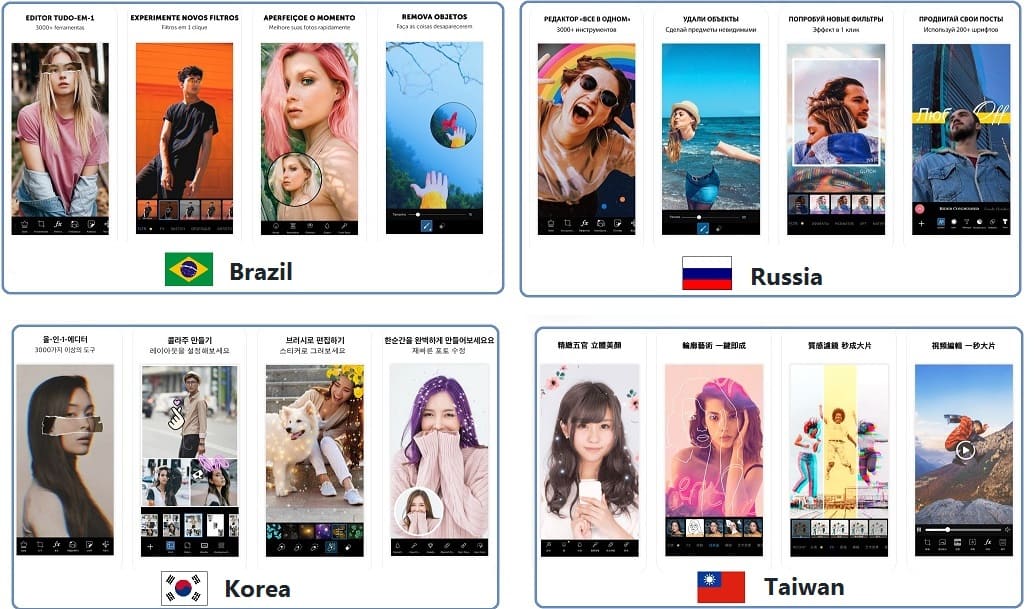 Some of PicsArt screenshots
Today many game pages include a promo video, which also helps to boost the install conversion rate. If the video contains text bubbles, these must also be translated.
Localizing your app page on the App Store or Google Play is a quick, inexpensive undertaking: the text on screenshots is minimal, and if the description is lengthy it can be partially translated. This is especially true for children's games, where the audience is interested more in the screenshots than the text.
Translating the description, screenshot texts, and text bubbles is a good task for the native-speaking translators at Nitro professional translation service.
The great thing is that you won't have to run around looking for 10-20 translators to handle these mini-texts: all you have to do is copy and paste the text, select the required languages, and receive all your translations within 24 hours.
Perspective markets for ASO and app localization
Here is a classic selection of languages that we at Alconost recommend to our clients: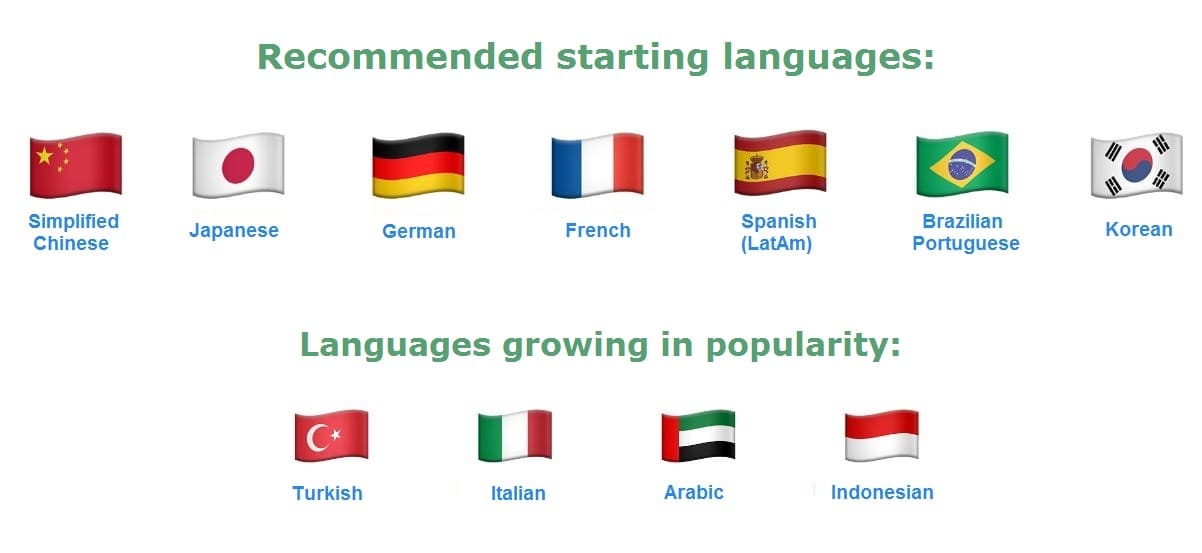 You may wish to test these markets before ordering game localization. Translating a game page — that is, localizing ASO — is a great way to test the potential of various specific markets for your game.
There are countries that do not expect full localization. These include India, Vietnam, and Malaysia. Translating the App Store page alone is sufficient to see an increase in conversion; users have no complaints about there not being a localized version of the game itself. These and 60 other languages are available at Nitro, a professional translation service that was created specifically to handle short texts.
It is worth noting that breaking into the Japanese, Korean, and especially the Chinese markets differs drastically from what we are used to in the West. Check out this article on promoting apps in Asia to prepare for the nuances of the East.
The world is full of quickly expanding markets, and it's best to stake your claim sooner rather than later. If you've been inspired by the possibilities for expansion through multilingual localization and ASO, here at Alconost we'll be glad to help you with any of our 70+ languages.
Need to localize your app?